2017 GMC Safety Features | Keeping Winnipeg Roads Safe

Winnipeg in famous for our ever changing road conditions. If it's not snow and near whiteout conditions, it's potholes and dodging the road hazards. It's because of that that we can't be more proud to be a GMC dealer as GMC pays special attention to any and all safety features they can pack into any truck or SUV. But what do all those safety features mean, what are you paying for and which features fit your unique needs and driving habits can be tough to figure out at times. Let us help break it all down for you.

Side Blind Zone Alert
We all shoulder check, and we all keep close eyes on our mirrors. However the larger the vehicle the larger the blind spot, and the harder it is to see smaller vehicles. Side Blind Zone Alert helps ensure that you're not dangerously changing lanes un-knowing that there's a smaller vehicle in your blind spot or even a motorcycle by displaying a symbol in the outside mirror to provide and alert to the driver that the space is occupied. Now, if your turn signal is on and your GMC detects that the space is occupied, that same symbol will flash to providing additional warning to the driver. 
Lane Keep Assist
Most vehicles that come with Lane Keep Assist will either beep at you, vibrate your seat or both. GMC recognized that if you're drifting lanes those sudden sounds and motions might not be enough. That's why your GMC truck or SUV's Lane Keep Assist will gently turn your steering wheel back to the correct lane if it senses your vehicle drifting without using a turn signal. This not only protects you from oncoming traffic, it also helps keep safe driving habits on Winnipeg roads.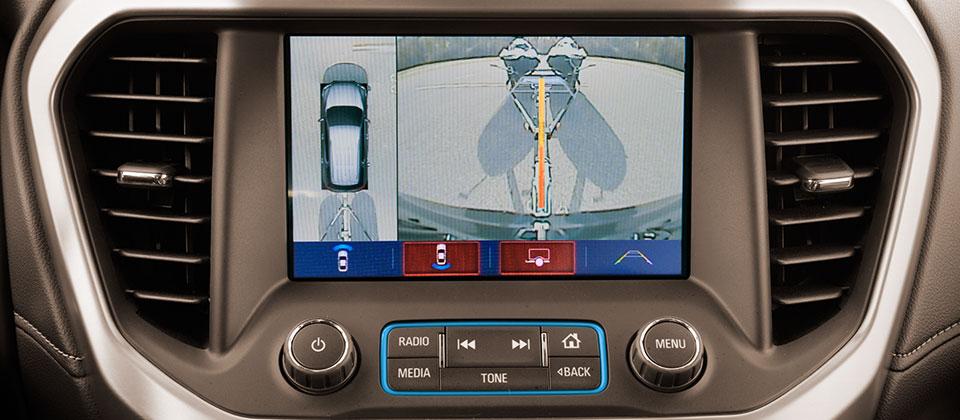 Rear Vision Camera, Rear Cross Traffic & Active Tow Trailering
The reason why we've placed these three together is because they all use GMC's innovative systems of rear cameras and senors. We've all seen the rear vision camera at work, helping you confirm that the coast is clear before backing up. But have you heared of Rear Cross Traffic Alert? These are radar sensors on the side of your GMC that will warn you of any approaching cross traffic while backing up. No longer with those Winnipeg snowbanks be approached with fear.
With all that technology in the back of your GMC you're now able to tow with even more confidence. GMC's Active Tow Trailering System allows for easier trailer hitching by employing rear vision camera with dynamic guidelines to help line up your trailer and hitch. This system also provides you with views of your trailer while driving.
Forward Collision Warning
Sudden stops on Winnipeg roads are far too common. If it's due to a deer running across the road, a pothole that all too often comes out of nowhere or a teenage driver cutting in front, slamming into the rear of another vehicle happens far too often. GMC's Forward Collision Warning is there to put an end to that as it provides audible and visual signals if your GMC appears believes a collision may be imminent.

Staying Safe and Connected With OnStar
Standard in most 2016 and 201 GMC models with a 6-month trial subscription, OnStar provides you with that extra padding of safety. With OnStar you get automatic crash response, turn-by-turn navigation, roadside assistance, emergency services and remote door unlock (yes you can unlock, lock or start your vehicle from anywhere). If your traveling long distances, make frequent trips to the cabin, take a few snowmobile trips a season or are the mom or dad of a new driving, OnStar can keep you protected and safe in places where cell phones get no service.
You can learn more about how OnStar can keep you protected on their website, onstar.ca.